I told Gary I would make him a guide like this for his new laptop but figured I should just post this here in case anyone else is interested. I know there are several of these sorts of guides out there but at least I was still confused by some of the information.
A good guide is available here:
http://www.saabsforum.com/viewtopic.php?t=1382
Hardware Needed
Windows computer, I chose 7 but XP and 10 can also be made to work.
T5 ECU
Harness Pigtail
Power Supply
Canusb adaptor, I prefer the Combi Adapter made by johnc over on trionictuning.com
USB Cable
DB9 Serial connector
Software Needed
T5Suite found here:
http://www.txsuite.org/download/t5suite2/
T5 CanFlasher
http://www.txsuite.org/download/t5canflasher2/
Drivers for your CANUSB adapter;
Combi Adapter:
https://drive.google.com/folderview?id= ... sp=sharing
Lawicel (I could never get this thing to work on XP as they stopped updating drivers, but it may/should work better on 7 and later)
http://www.can232.com/?page_id=75
Connecting ECU to Computer
There are several ways to do this, the easiest being alligator clips directly onto the pins but I made this out of a T7 connector that was chopped off the harness. You need to move 1 pin if you're using a T7 harness, which can be a pain without the right tool but its doable.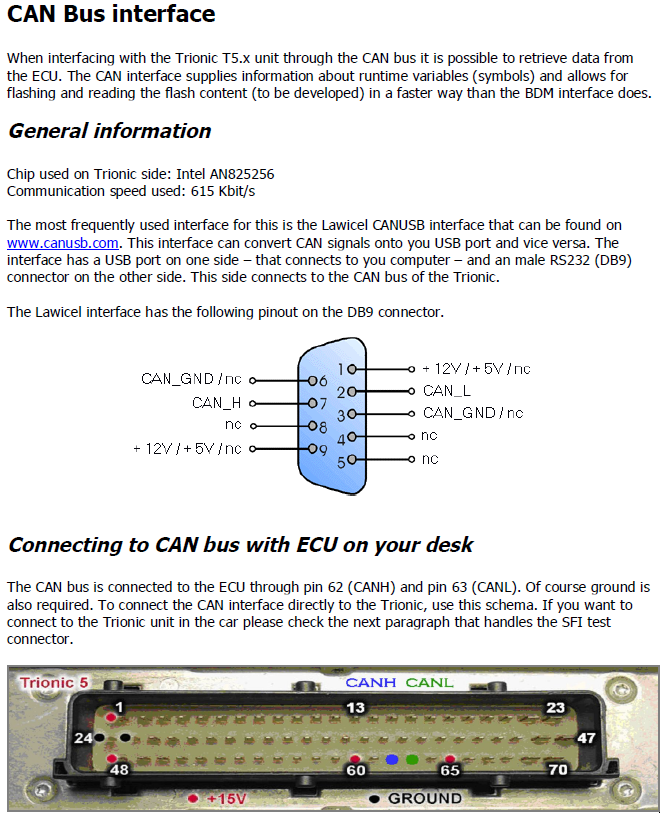 You need the following pins:
15V: 1, 48, 60, 65 (I can't remember, I think it was 60 that had to be moved over on a T7 pigtail)
Ground: 24, 25
Can high: 62
Can low: 63
To make the power supply I bought this from amazon and cut off the end:
http://www.amazon.com/ZOZO-Universal-Re ... wer+supply
And these connectors; I originally was going to try and use a power supply I had for my guitar pedals but nixed that idea, but I also wanted to be able to switch between T5 and T7 so I made it removable. If you're just doing one you could hardware the power supply to the the ECU connector:
http://www.amazon.com/dp/B00XJ23U3A?m=A ... etail_page
You can use old laptop power supplies and really any combination of connectors...
For the DB9 Serial I connector I picked one up at Radio Shack before it became a Sprint store but there are a million places that stock these:
http://www.amazon.com/StarTech-com-Asse ... B00066HQ7S
You want to connect the Can H from Pin 62 of the ECU to pin 7 of the DB9, Can L goes from 63 of the ECU to pin 2 of the DB9. I did not connect a ground to this and it works fine, but if tuning in car you'd probably want to...
This is what mine looks like:
Downloading your File
Then after you've downloaded T5Suite and T5CanFlasher you need to install the correct drivers, I should point out that I'm terrible with Windows but if you're somewhat computer literate this is probably a no brainer. This was where I found out how to do this step:
http://uksaabs.co.uk/UKS/viewtopic.php? ... 9&start=20
And just again this is where I got the drivers for the Combi Adapter, you'll need to know whether you're running 32 or 64 bit Windows to install the correct one.
https://drive.google.com/folderview?id= ... sp=sharing
1. Search for/open up 'Device Manager' and look for the Combi Adapter, it could be under a few different names but it will be something like Other Devices or Universal Serial Controler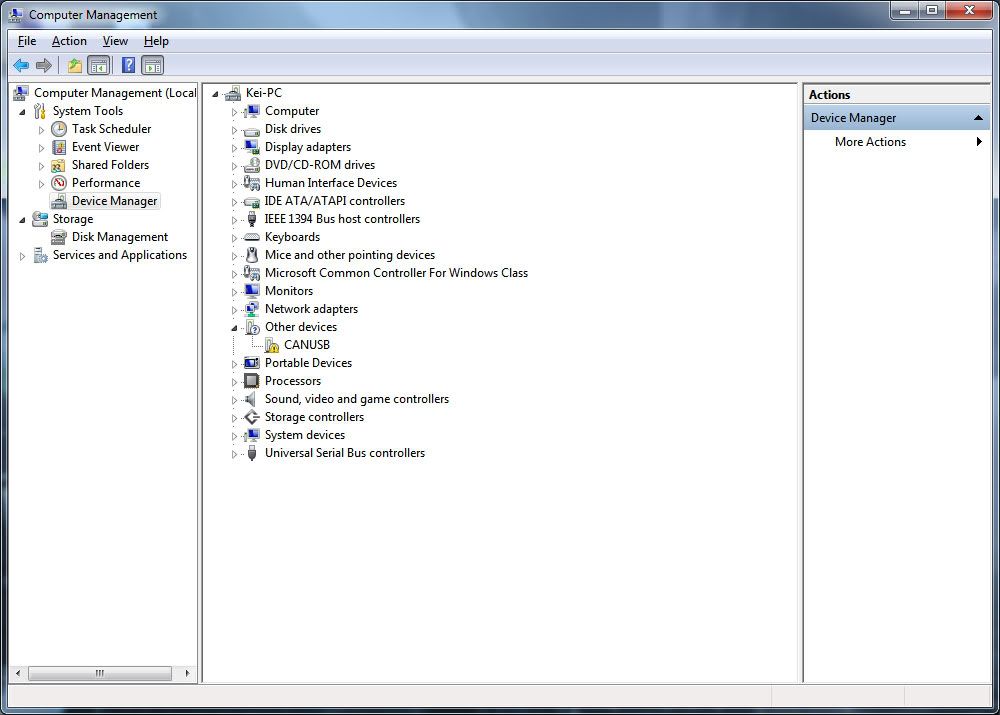 2. Then double click on it and when the window pops up click on the 'Driver' tab and then onto Update Driver. You should be given an option to manually find the driver, I like to save it to the desktop to make it easy to find but really anywhere should work.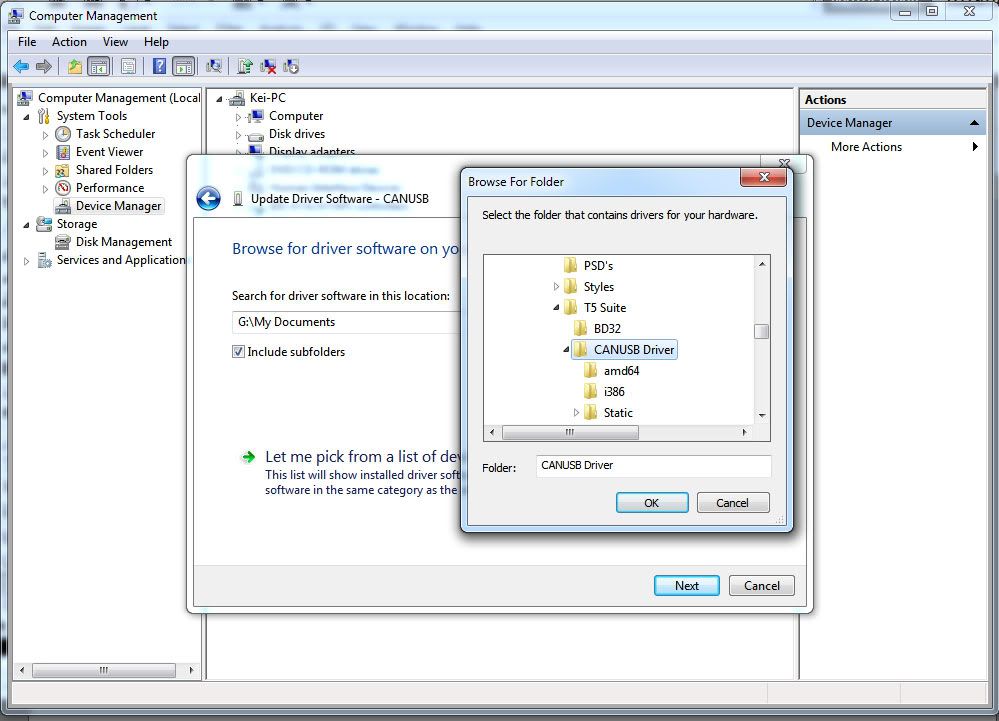 3. Once that is installed you should see a steady green light on your adaptor meaning everything is working OK. Now just open up T5CanFlasher and read the file and save the .bin somewhere and then open that up in T5Suite. It will depend on what adapter you're using but you want to select the correct one in the pull down menu, same goes for once you are in T5Suite change the settings so you have your correct adapter.
Hopefully this was somewhat helpful if it isn't otherwise obvious to you guys
As I said this info is already in various places but to me at least its sort of confusing if you haven't done it before. I haven't gotten far in figuring out how to tune in T5Suite but just open the various maps and try to see what they do, hopefully I'll learn a little more in the following weeks and months.